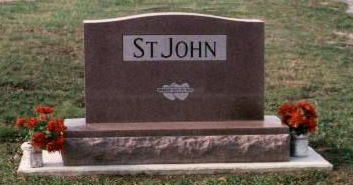 St John Memorials is a third generation monument company, started in 1927 by Howard and Julie St. John in Moravia, NY. Howard had previously worked for Rock of Ages at Stone Sheds in Barre, VT before moving to the Finger Lakes Region of Upstate NY and opening a retail operation. Granite arrived from Barre, VT by freight train in block form and all the shaping and polishing was done on premises.
In 1990 after Howard's passing, his son Harold continued the business at the Moravia location, while grandson Ty, and his wife Doreen moved to the Mohawk Valley (Ephratah) and opened a second location. This enabled the family to serve a wider area in upstate NY.
Ty and Doreen soon found that many area monument dealers in the Mohawk Valley did not engrave their own work. They contacted several dealers and funeral homes in the area and the St. Johns were soon performing engraving services for 5 dealers and 35 funeral homes. They found themselves doing on-site lettering work in area cemeteries from Albany to Penn Yan and became involved with many area communities doing civic and veteran memorials. In 1992, St John Memorials restored all the lettering on the Civil War Memorial in the Lakeview Cemetery in Skaneateles, NY.
1993 saw a trip to the Wright-Patterson AFB in Dayton, Ohio to do engraving work on the Flying Tigers Memorial.
2001 was another milestone when St John memorials opened their third location in Cincinnatus, NY, offering affordable memorials in the Norwich area. Soon afterward Harold retired and regrettably closed the family location in Moravia.
As the calls from families continued from the Finger Lakes area to the office in Ephratah, Ty and Doreen knew there was a need for a monument dealer in the area. In 2005 they found just the place to locate a new office in Scipio Center. Powers Red and White store in Scipio Center was an icon in its own right, being a family run grocery for 60 years. The store now houses an indoor display of 80 monuments along with an engraving shop and serves Cortland, Tompkins, and Cayuga counties with affordable, quality memorials along with onsite lettering work.
2007 has proved to be another landmark. Ty St. John was elected to serve on the Board of Directors for the New York State Monument Builders Association.
St. John Memorials is proud to offer to their families a brochure titled "Selecting A Memorial" which has many commonly asked questions and answers about the process of buying a memorial. Please feel free to call for your copy or stop by any of our locations; the brochure box is located in front of the stores.
Whether it be lettering on an existing memorial, or need for a family monument, St. John Memorials is the name associated with quality, affordable monuments.
Sincerely,
Ty and Doreen St. John
Call (315) 364-8266 and let us help you